The Book of Loco
The Book of Loco is a semi-autobiographic, intimate theatrical experience in which writer and performer Alirio Zavarce duels with his alter-ego, Loco, and draws on historical and global events to make sense of this crazy life. Willing audience participants help demonstrate Loco's theory of 'Rational Madness', while Alirio ponders life's conundrum that sometimes you have to be mad to stay sane.
"If the world was collapsing around you and you only had a notebook and pen, what would you do?"
The Book of Loco is a contemporary, beautiful work that has universal thematic resonance and is set in an enclosed and highly designed space. It is an intimate space, a waiting room (preferred audience of 100) where Loco plays with his audience – his spectators become as much a part of the narrative as the story teller himself. The Book of Loco is a unique audience experience.
Writer/Performer – Alirio Zavarce
Director – Sasha Zahra
The Book of Loco collaborating artists/creative collaborators are: Jonathon Oxlade (set and costume design), Chris More (video and graphic design), Duncan Campbell (composer), David Gadsden (lighting design), Neil Jensen (production manager)
THE BOOK OF LOCO IS AN INDEPENDENTLY PRODUCED CONTEMPORARY NEW WORK.
Its development and premier has been supported through Arts SA's Triennial Project Grant. The work was developed in stages over 3 years, driven by leading South Australian artists Alirio Zavarce (writer/performer), Sasha Zahra (director) and initially produced by Janine Peacock – Loose Canon Art Services. The Book of Loco premiered as part of Adelaide Fringe 2013 at Tandanya Theatre.
The multi-award winning success of The Book of Loco's premier season at Adelaide Fringe, resulted in Melbourne's Malthouse Theatre presenting the work as part of their 2014 annual program.
ALIRIO ZAVARCE
WRITER & PERFORMER
Alirio was born in Caracas, Venezuela and migrated to Australia in 1992. In 2000 he graduated from Flinders University Drama Centre. Over the last 14 years Alirio has performed at Malthouse Theatre, Windmill Theatre, State Theatre Company of South Australia and Sydney Theatre Company. He is a founding member of The Border Project and has performed in and co-created all of its productions. Alirio has developed and directed projects for: Nexus Multicultural Arts Centre, SYTE, Urban Myth, Multicultural Community Council of South Australia, Flinders University Drama Centre and the Community Arts Network. For No Strings Attached Theatre of Disability, Alirio directed, wrote and performed Trapped (winner of the 2011 Fringe Peace Foundation Award) and Sons & Mothers (winner of the 2012 Fringe Award for Best Theatre Production, the Adelaide Festival Centre inSPACE: Development Award and the Adelaide Critics Circle Best in Fringe Award). In 2013 Alirio wrote and performed The Book of Loco (winner of the 2013 Fringe Award for Best Theatre Production and the Adelaide Festival Centre inSPACE: Development Award); and wrote and directed The Migration Project, which was presented as part of 2013 Come Out Festival. Alirio produced and directed the 2014 Adelaide Fringe venue Live From Channel 9 Studios, for which he created and performed The Chapel of Love and directed True North Youth Theatre Ensemble's A Sense of Home (winner of the 2014 Fringe Peace Foundation Award). He performed the role of Geppetto in Windmill Theatre's Pinocchio (Malthouse Theatre/Sydney Theatre Company). Alirio is the Artistic Director of AJZ Productions and True North Youth Theatre Ensemble.
SASHA ZAHRA
DIRECTOR
Sasha is a director, producer, theatre maker, performer and deviser. She is a graduate of Drama Studies from Adelaide University and since 2010 she has been the creative producer of Adelaide Fringe. In 2004, Sasha undertook an Australia Council for the Arts residency with Wan Smolbag Theatre in Vanuatu, where, in 2009, she curated and produced the Australian contingent of the inaugural Wan Smolbag International Theatre Festival, and in 2014 was a programmer and producer of the festival. Previously, Sasha has been the artistic director of D Faces of Youth Arts and Kurruru Indigenous Youth Performing Arts. Her directing credits include: Soaring and Books and Bites (Come Out Festival); Crossing Paths (Adelaide Fringe, winner 2006 Fringe Award for Best Dance Show); Second to None (Vitalstatistix, nominated for a 2008 Ruby Award); and Purratendi (Port Adelaide Festival). Her other work includes: assistant director on Catherine Fitzgerald's Frozen (State Theatre Company of South Australia); associate artistic director of Come Out Festival 2009; and dramaturg on Saltbush: Children's Cheering Carpet (Compagnia TPO/ Come Out Festival). In 2013 Sasha directed The Book of Loco (winner of the 2013 Fringe Award for Best Theatre Production, Adelaide Festival Centre inSPACE: Development Award), and she recently performed in Cutaway: A Portrait (Vitalstatistix) directed by Roslyn Oades.
JONATHON OXLADE
DESIGN
Jonathon studied illustration and sculpture at Queensland College of Art. He has designed set and costumes for Malthouse Theate, Windmill Theatre, Queensland Theatre Company, Is This Yours?, Aphids, Circa, Arena Theatre Company, Polyglot, Bell Shakespeare, Polytoxic, Men of Steel, The Real TV Project, Terrapin Puppet Theatre, The Escapists, The Border Project, State Theatre Company of South Australia and LaBoite Theatre. His work for venues and festivals include: Sydney Opera House, Melbourne Festival, Adelaide Festival, Performance Space and Queensland Art Gallery. Jonathon illustrated the picture books The Empty City (Hachette Livre/Lothian) and the Edie Amelia series by Sophie Lee. He was the festival designer of 2010 Out of the Box and is currently the resident designer at Windmill Theatre. He was the recipient of the Matilda Award for Best Designer in 2005 for A Christmas Carol (Queensland Theatre Company) and in 2008 for Attack of the Attacking Attackers (The Escapists/La Boite). He was nominated for the Green Room Award for Best Design in 2009 for Goodbye Vaudeville Charlie Mudd (Malthouse Theatre/Arena Theatre Company) and in 2013 for Skeleton (Malthouse Theatre/Larissa McGowen); and the 2013 Helpmann Award for Best Scenic Design (School Dance, Windmill Theatre/Adelaide Festival). In 2007 Jonathon was awarded the Brisbane Lord Mayor's Young and Emerging Artists Fellowship to attend the Prague International Scenography and Theatre Architecture Quadrennial.
BRADLEY WILLIAMS
ARTIST'S ASSOCIATE
Brad is a performer and theatre maker. He is a founding member and the current artistic director of independent theatre company five.point.one, based in Adelaide. In Melbourne, Brad has performed in Dying City (Hoy Polloy), The Nightwatchman (Theatre Works), 22 Short Plays (MKA) and the workshop development of MKA's The Economist with Van Badham. In Adelaide, Brad has performed in The Under Room, The Eisteddfod, Muff, The Lake and Notoriously Yours (five.point.one). He was a stage manager and performer in I Am Not an Animal (The Border Project), and assistant to the director throughout the final phase of development of Sons & Mothers (No Strings Attached/Windmill Theatre). Most recently Brad has had roles on the television mini-series Anzac Girls (ABC) and Deadline Gallipoli (Foxtel); and collaborated with five.point.one and Van Badham to create Notoriously Yours for the 2014 Adelaide Fringe.
BELLE BASSIN
ARTIST'S ASSOCIATE
Belle is a visual artist who has manifested the Jonathon Oxlade set design for The Book of Loco. Belle's recent group exhibitions include Ode to Form (West Space), Legends: Obsessions with the incomprehensible and the uncanny (Latrobe Regional Gallery), It's easier to look at your skin (Cites des Artes) and The Terror of N (Fehily Contemporary). In 2007, Bassin was the recipient of the Wallara Travelling Scholarship, the Westspace Award and the George Hicks Award. She has been a Gertrude Contemporary Studio resident, an RMIT Printmaking Resident and, in 2012, a Cite Studio resident. Belle's work is held in the Monash University Museum of Art and in private collections throughout Australia. She is currently an MFA candidate at Monash University.
DUNCAN CAMPBELL
COMPOSITION
Duncan is an accomplished sound engineer in film, television, theatre and music. After years of freelance work recording and producing bands, composing and sound editing for film, he now works full-time as a sound technician at the South Australian Film Corporation. Recent film and television credits include 52 Tuesdays, Charlie's Country, Danger 5, The Infinite Man, Wastelander Panda and Wolf Creek 2.
NEIL JENSEN
PRODUCTION MANAGER & LIGHTING REALISATION
Neil is a problem solver, developer and concept realiser. Neil has been involved in technical production for his entire working life. Since graduating from the Centre for the Performing Arts in the early 90s he has worked on diverse projects including almost every Adelaide Festival and Fringe since 1992. In recent years he has been concentrating primarily on production and tour management, development of theatre technology systems and lighting design. Highlights include: site co-ordinating WOMADelaide; production managing Come Out Festival, Adelaide Film Festival and Leigh Warren & Dancers; touring the world with shows such as Stalker Performance Projects' RED and StiltBreak; developing and constructing wireless video screens for Force Majeure's The Age I'm In and Chooky Dancer's Wrong Skin; and production and tour managing for Marguerite Pepper Productions on various shows including Shaun Parker's This Show is About People and The Leaping Loonies' Crate Show.
CHRIS MORE
VIDEO & GRAPHICS
Chris' creative practice has been shaped by his background in multimedia and interactive design. His work with the moving image has led to several creative collaborations for live performance and theatre including: Game Show (Aphids); Pinocchio (Windmill Theatre/Malthouse Theatre/Sydney Theatre Company); School Dance (Windmill Theatre); Star Chaser (Arena Theatre Company); Half Real (The Border Project); The Wizard of Oz (Windmill Theatre); Girl Who Cried Wolf (Arena Theatre Company); Criminology (Malthouse Theatre/Arena Theatre Company); and Skid 180 (Arena Theatre Company/Contact).
DAVID GADSDEN
LIGHTING DESIGN
THE BOOK OF LOCO IS INTIMATE THEATRE.
The set is comprised of cardboard boxes and/or modular flats designed to look like boxes.
Discuss with our team to determine the best fit for the experience in your venue.
There are 2 versions of the show to suit multiple venue types:
"END ON" OR "FULLY IMMERSIVE"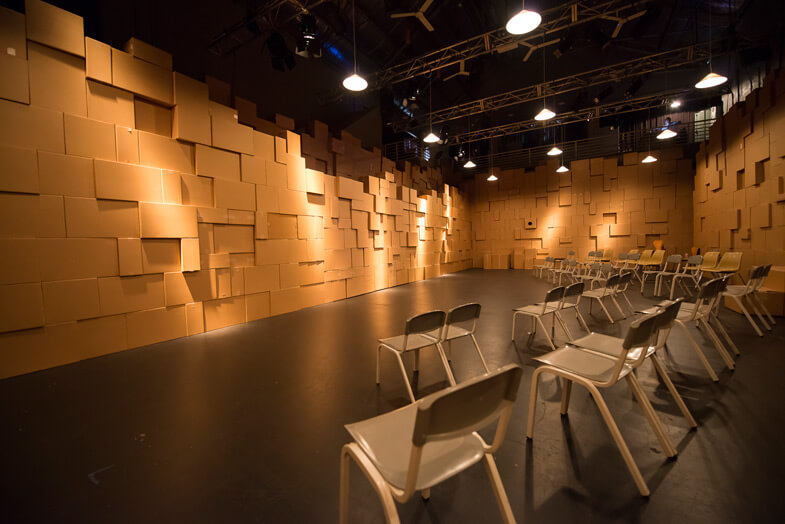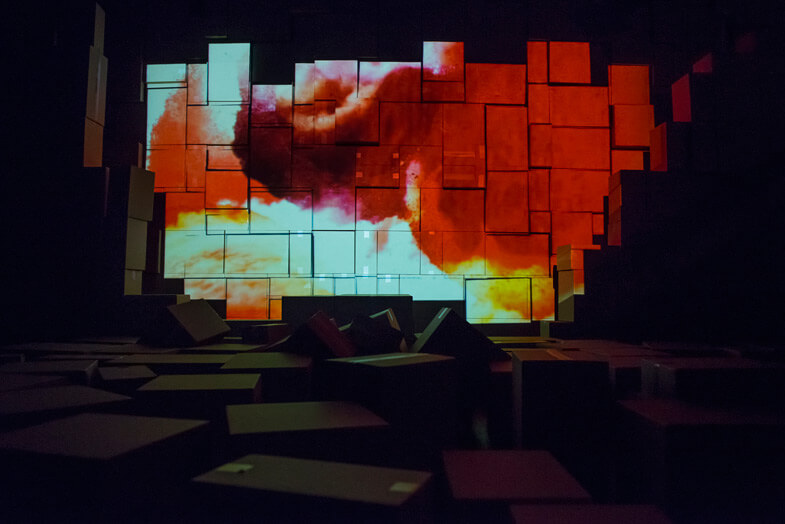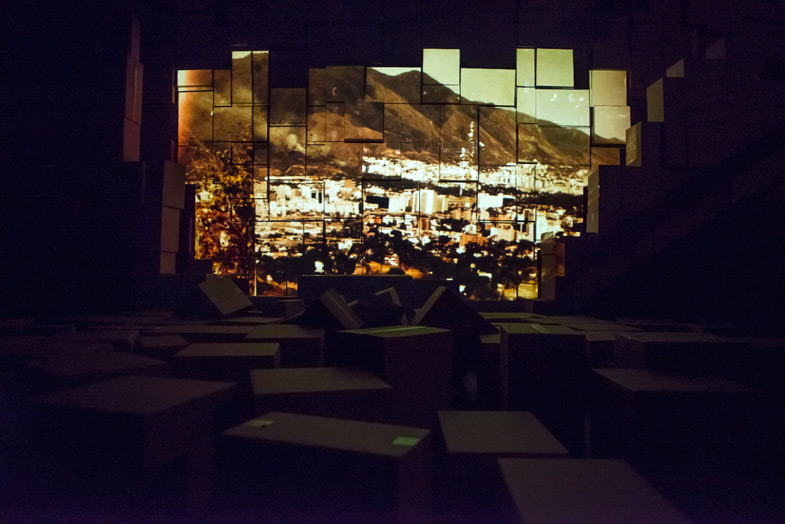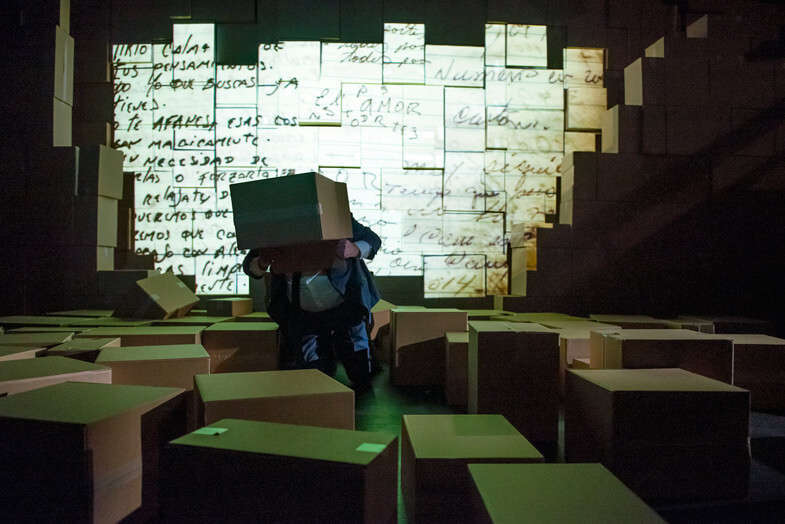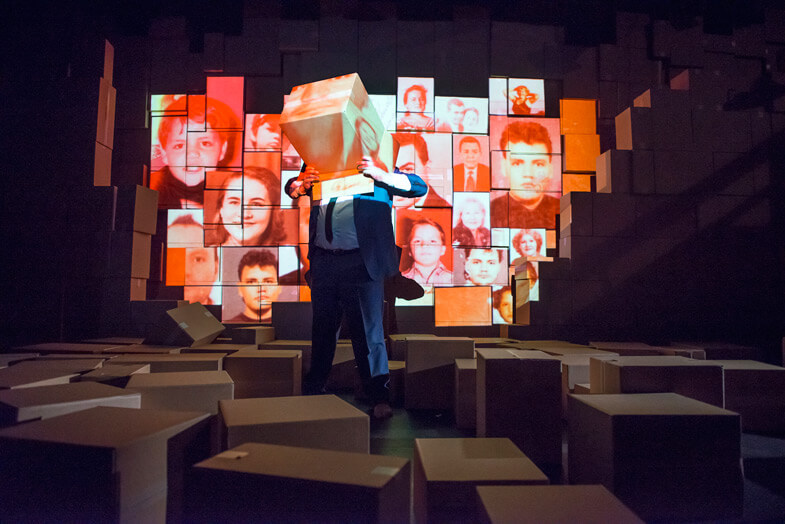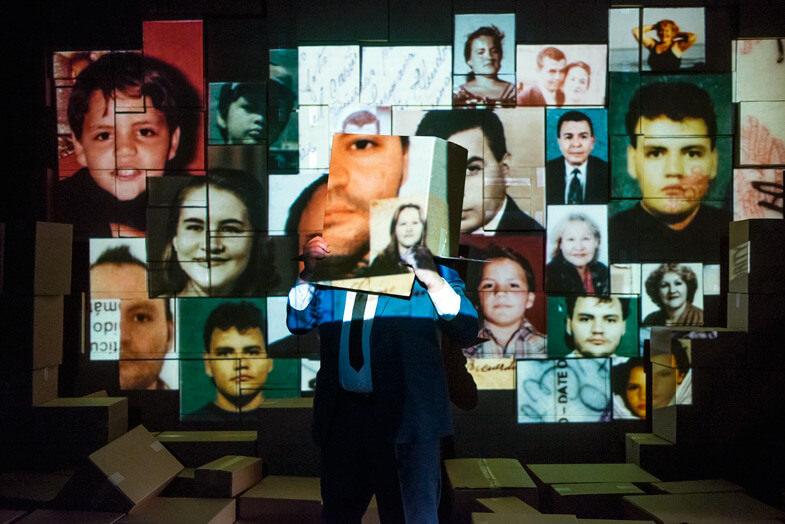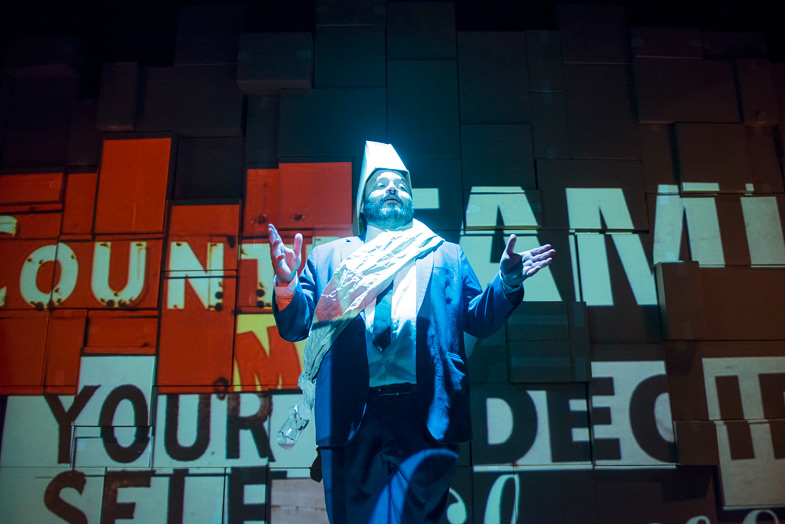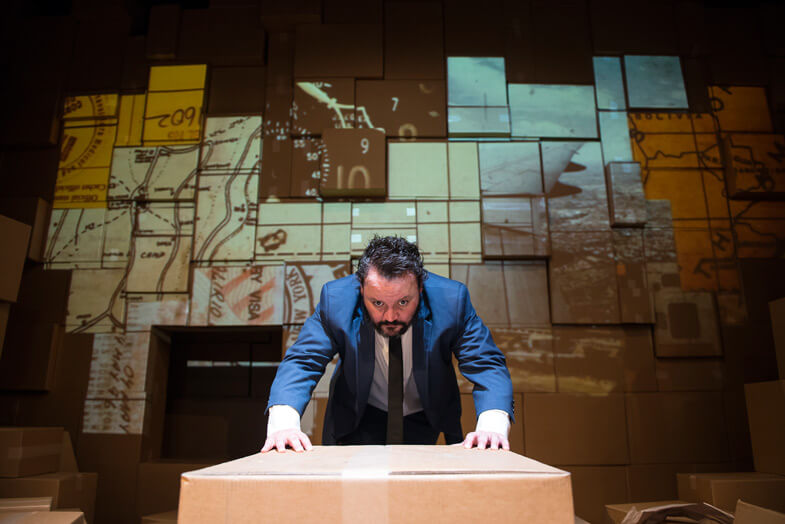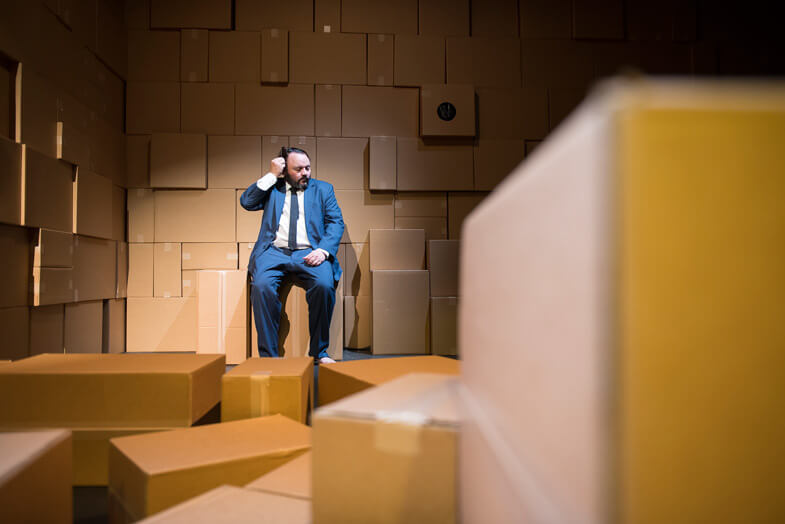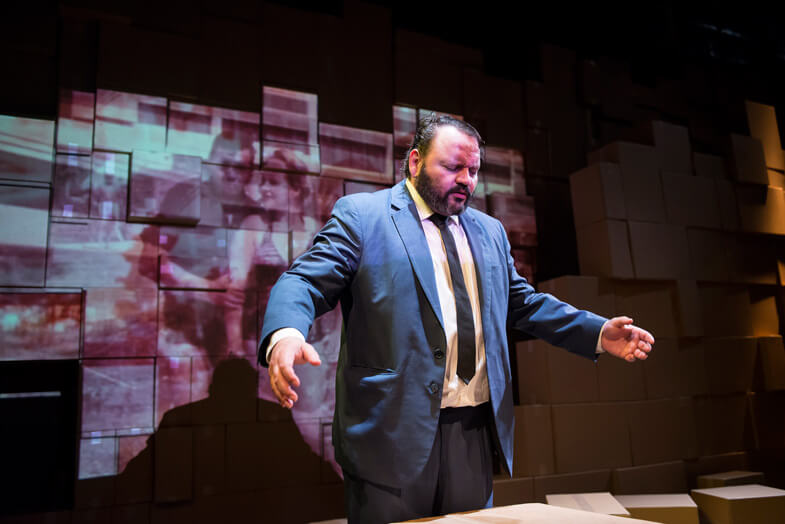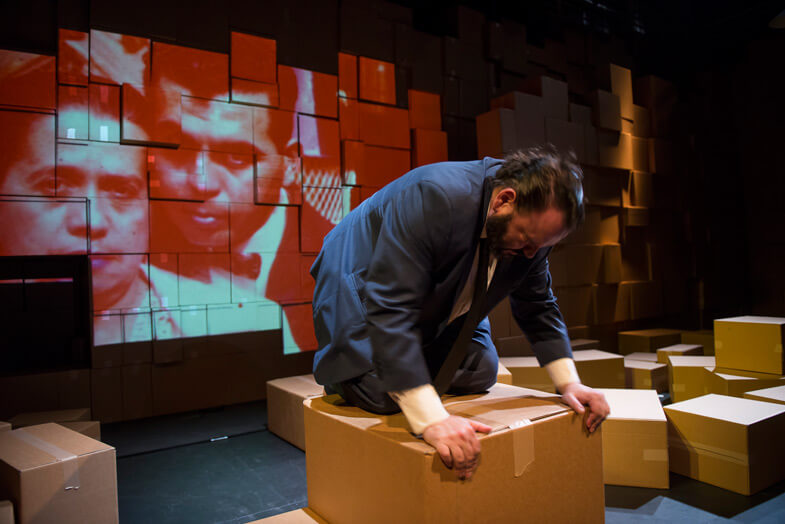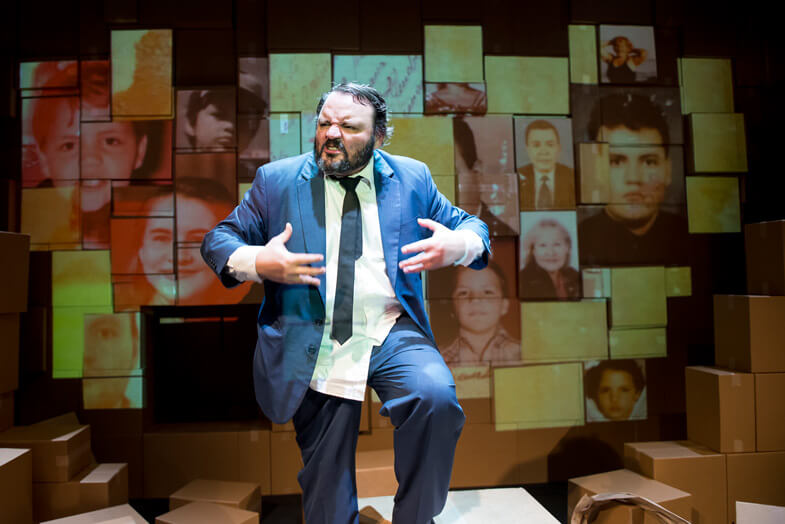 One-man tour de force for actor/writer Alirio Zavarce.
RIP IT UP, ADRIAN MILLER
The Book of Loco is mesmerising, engaging, powerful, complicated and deliciously entertaining. Challenging and engaging, theatre as it should be.
JAKE ORR, A YOUNGER THEATRE REVIEW
The Book of Loco must be one of the finest theatrical events of this year's Fringe.
MARTIN CHRISTMAS, THE BAREFOOT REVIEW
Funny and sad moments, great projections and sound, clever audience participation, theatrical tricks and surprises, but most of all the delight of play.
LOUISE NUNN, THE ADVERTISER
Best of the Fringe.
GORDON KANKI KNIGHT, SATURDAY ADVERTISER, SA WEEKEND MAGAZINE
A must see for those who want to learn something about themselves and each other.
FRINGEREVIEW UK, CORINNA DI NIRO